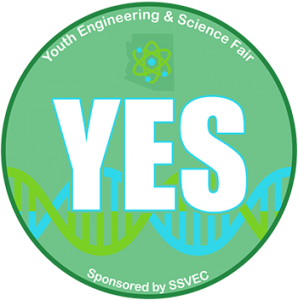 What are the changes for the Virtual YES Fair?
Teacher/Advisor/Student registration will begin in November 2021. Teachers and Advisors MUST register prior to their students' submitting projects. The difference here is that a student must be registered FIRST to upload the project documents.
ONLY High School projects will be allowed to set up at the YES Fair. All 5th-8th grade projects will be uploaded. Formatting instructions for the project and attachments will be published.
High School projects will be set up February 22, 2022, from 8am-4pm. Schools can coordinate an earlier or later time to set up their projects. Please request your time NLT February 18, 2022.
Students in the 7/8 grade division can also provide a video with their project, it's not required but highly encouraged.
For High School students, the initial round of interviews will start on February 23rd at 12 noon. The second round of interviews will happen after the judges have selected more projects to interview.

All students will take their projects with them after interviews have been completed.

Past awards and prizes will not change for the 2021 Fair, and there will actually be an increase in prizes for the 2022 Fair.
All of the rules and safety guidance in the YES Fair Rules Book apply to projects entered at the fair.
On February 2022, the YES Fair will broadcast a live awards ceremony on Facebook. Students, teachers, advisors, and parents of students/schools receiving awards mat attend the awards ceremony.
What does a Virtual Project look like?
High School projects will follow the guidance in the YES Fair Rules Book.
5-8 grade projects will be presented using our Science Project Worksheet Form (PDF), Word (doc), or PowerPoint Slide presentation. The Science Project Worksheet (PDF) available online is fillable after downloaded, or the student can recreate the same form using the format in Word or PowerPoint. All project board information, photos, journal, and worksheet items must be labeled exactly like the project form.

NO physical project board is required.

Examples of the PDF, Word, and PowerPoint Science Project Worksheets can be found at: https://www.yesfair.com/resources/ under the YES Fair Documents and Science Project Worksheet & Examples tab.
Registered students/teachers/advisors will receive an email instructing them how to log in to upload their project forms, attachments, and video. Photos and attachments will be uploaded separately. Projects will be uploaded February 1-14, 2022.