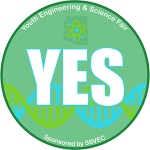 Dear Teachers/Advisors,
The Teachers and Student online registration will open on November 30, 2017. As a teacher or advisor of a student/project at the YES Fair you MUST register first. Students will not be able to complete registration without the teacher/advisor information in the system.
Timeline of YES Fair Deadlines
December 11, 2017 is the Entry Deadline for Projects involving Humans or Vertebrate Animals PROJECTS. Projects involving HUMANS or VERTEBRATE Animals must have SRC or IRB Approval PRIOR to the Experiment (See YES Fair & ISEF Rulebook).
December 15, 2017 is when Grant applications for local school science and engineering fairs are due.
January 8, 2018 Teacher/Adviser deadline for registration.
January 8, 2018 Student/Project registration begins.
February 12, 2018 School/Project registration ends.
Please check out the resources on our web site that include the YES Fair rules, ISEF Rules, and many links to other sites with ideas for projects and other assistance for students and teachers.
As always, you can ask any and all questions with an e-mail to yesfair@ssvec.com
We look forward to seeing you at the Fair,
Marcus Harston
YES Fair Director